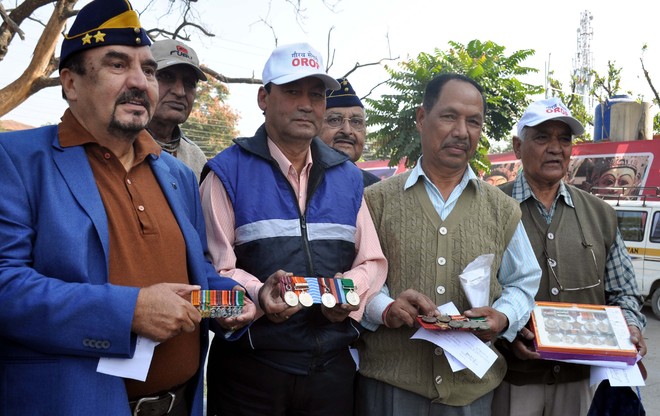 Tribune News Service
Dehradun, November 16
As many as 40 ex-servicemen and five Veer Naris returned their medals at Parade Ground here today to register their protest against the Union Government.
They are not happy with the clauses added in One Rank One Pension (OROP) scheme.
Earlier, the ex-servicemen under the aegis of the United Front of Ex-Servicemen (UFESM), Uttarakhand chapter, raised slogans at Parade Ground. Later, they submitted their medals, which will be sent to President Pranab Mukherjee soon.
An ex-servicemen said those who did not bring their medals today but wanted to return them could submit the same at the the office of the Uttarakhand Ex-services League (UESL).
Maj Gen Lalji D Singh (retd) said it was not easy to part with medals but they were being forced to do so due to "injustice" being done in the sanctioning of OROP. He added disparity in pension would not be tolerated at any cost.
Maj Gen Chander Nandwani (retd), President of the UFESM, said the Union Government had decided to form a one-man committee to address the grievances of ex-servicemen, which was not acceptable.
He said the government should form at least a five-member committee comprising three retired defence personnel and one serving Army officer and a government representative.
Brig KG Behl (retd), media in charge of the UFESM, said ex-servicemen had only one demand and that was OROP. "The so-called five demands being talked by the Centre are only five hurdles included in the notification to make it unwieldy and against the principles of OROP," he added.
More than 300 ex-servicemen, including Brig RS Rawat (retd), Brig Vijay Kumar (retd), Col BM Thapa (retd), Col PL Parashar (retd), Lt Col DS Cheema (retd), Major D Chaudhary (retd) and Capt Neel Kumar Thapa (retd), were present.